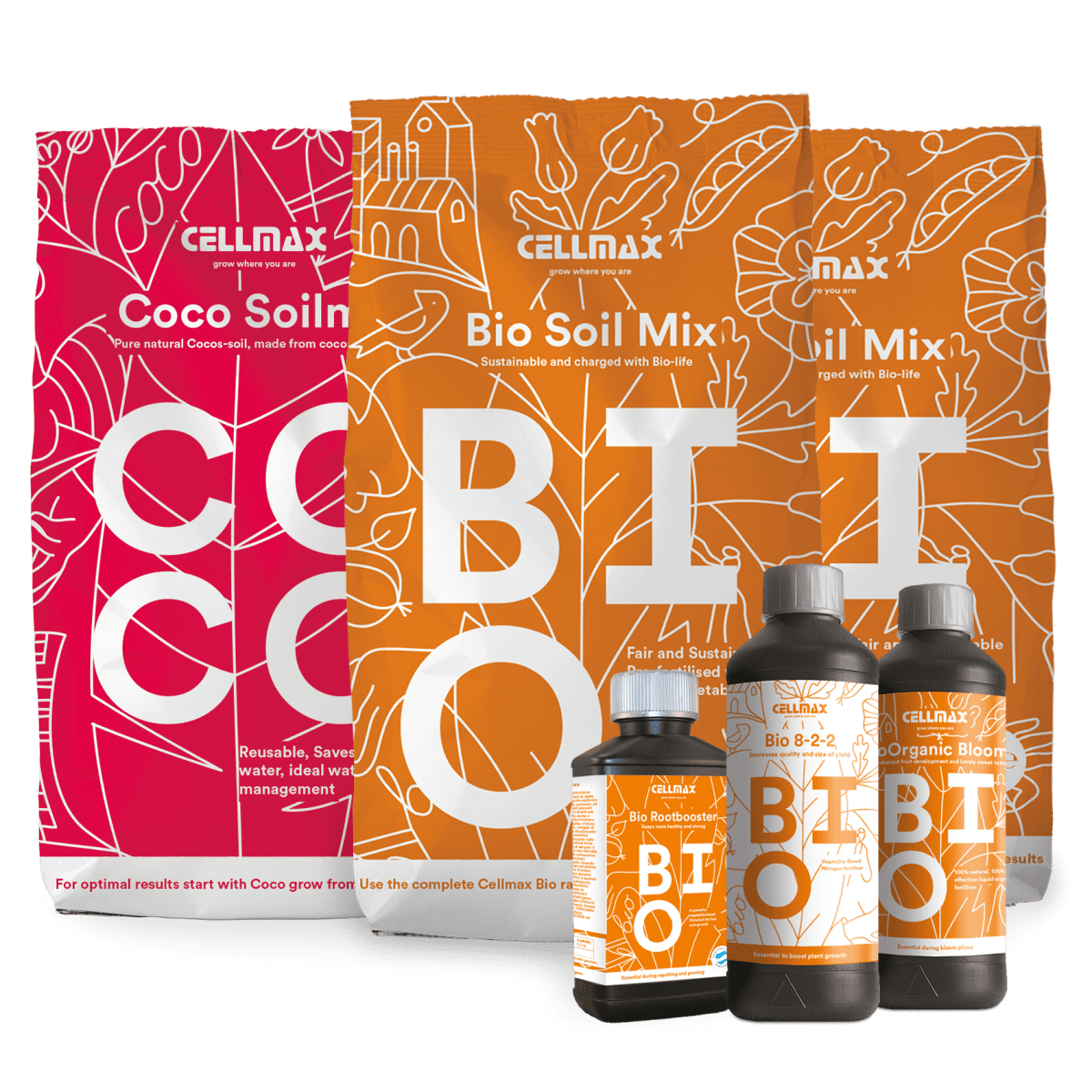 Kim's Favorite
Get to know Kim's favorite products in this affordable set, as recommended by the wildly popular vegetable gardening blogger.
From: € 75,00
✓

Free Shipping

✓

All prices include taxes

✓

Track & trace

✓

Packed clean and dry in boxes

✓

Delivered within one to three business days

✓

Environmentally conscious and sustainable transport

✓

Exchange or return within 30 days
Kim is a popular blogger about everything related to organic growing. This set includes all of her favorite products. Kim uses Coco and Bio potting soil, Coco during the seedling stage and Bio potting soil during the later growth phase of the plant. She also uses different fertilizers and additives for each growth stage.
The set includes the following products:
Bio Rootbooster (250 ml)
To be used for soaking and during seedling stage. Stimulates prosperous and healthy root development. Soak the seeds for approximately half a day in a solution of Bio Rootbooster. During the seedling stage, use Bio Rootbooster in the (spray)water.
Coco potgrond (50 liter)
Unfertilized cocopeat potting soil is ideal for seedling stage, as coconut retains water well. This will prevent the young plants and roots from drying out too quickly.
Bio potgrond (2 x 50 liter)
Cellmax organic potting soil has a high organic matter content, ensuring that your plants get everything they need. Use it once the seedlings have grown their first true leaves alongside the cotyledons. You can use Bio potting soil in pots, raised beds or as a supplement in the ground.
Bio 8-2-2 (500 ml)
Bio 8-2-2 is a 100% organic nitrogen-rich fertilizer. Use it during the growth phase of the plant to prevent growth from falling behind. When the leaves of your plant begin to lighten in color, it is certainly wise to supplement with Bio 8-2-2.
Bio-Organic Bloom (500 ml)
Bio-Organic Bloom is specially formulated for flowering and fruit set, resulting in larger and healthier fruits. Use it as soon as your plant starts to produce buds.
Read more?
- -.
For more background information on this product, read our detailed information on growth stages, potting soils, fertilizers, and additives.
Transparancy
We are therefore transparent about how we make our products. You can read the complete composition of all products on the packaging. This way you know exactly what you are growing and what you are eating.