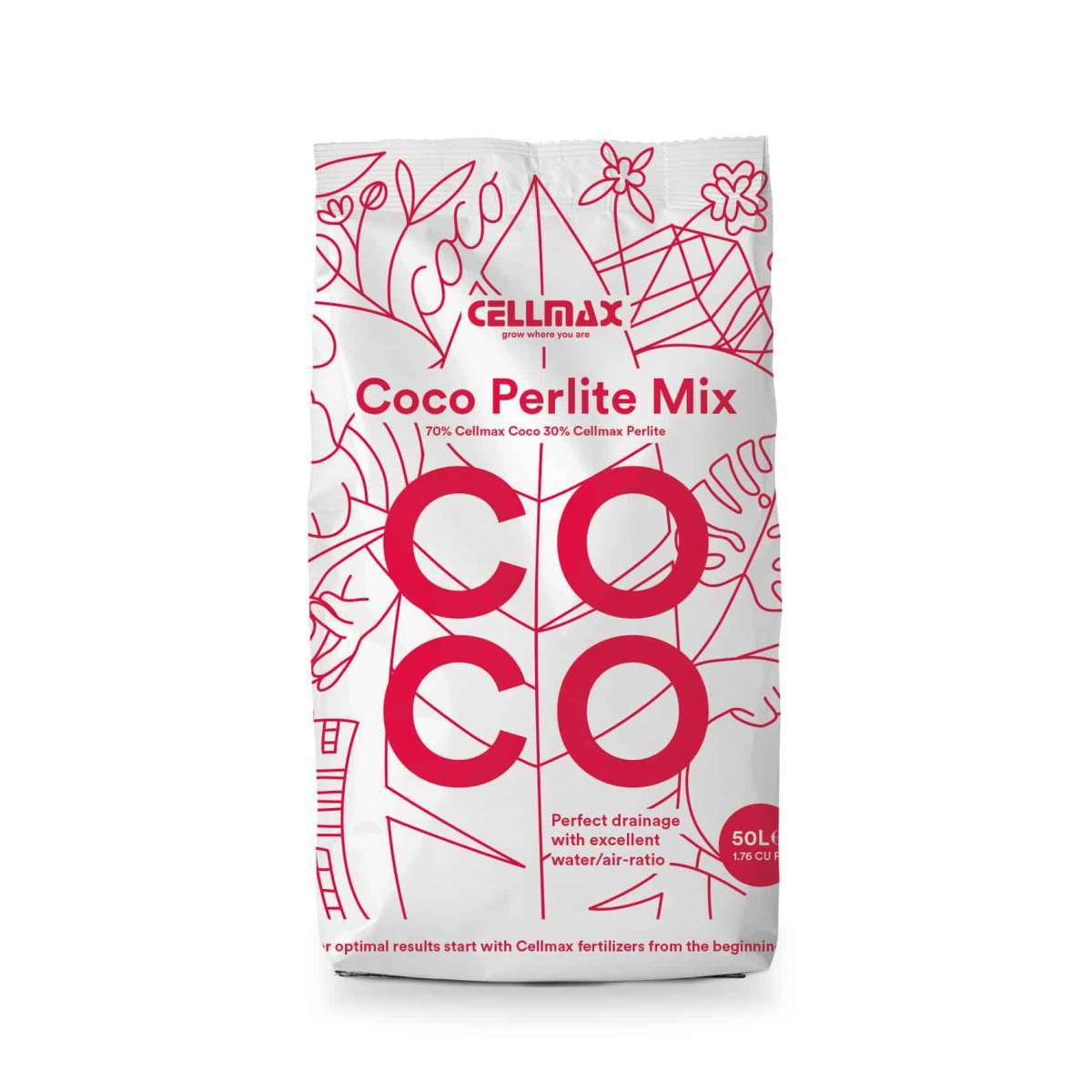 Coco Perlite Mix 50L
Coconut potting soil with perlite for an airy structure. This prevents excessive moisture levels and ensures a perfect water balance. Roots always get enough oxygen.

Also available on a pallet with 30 or 60 bags of 50 liters.
From: € 18,85
Variaties:
✓

Free Shipping

✓

All prices include taxes

✓

Track & trace

✓

Packed clean and dry in boxes

✓

Delivered within one to three business days

✓

Environmentally conscious and sustainable transport

✓

Exchange or return within 30 days
Coco Perlite Mix
Cellmax Coco Perlite Mix is a high quality cocos substrate mixed with Perlite for growing all types of plants. Cocos has been used for years in professional horticulture as a growing substrate because of the excellent properties and results. Perlite is added to this mix to create optimal airiness and a perfect drainage. Perlite is lightweight, retains water and allows plenty of air to be available to the roots. Cellmax Coco Perlite Mix is an ideal substrate that easily drains excess water. That's why you don't have to worry about giving too much water when growing on this mix. This product is ready to use and is cleared of excess residual salts from production and is buffered at the correct pH and EC values to immediately grow with. Furthermore, Cellmax Coco Perlite Mix does not contain added fertilizers and is therefore a good start substrate for young plants or seedlings.
Guarantee 
Cellmax Coco Perlite Mix is a safe and well functioning product and is produced under the strict RHP horticultural quality mark.
Advice
Use Cellmax Coco Perlite Mix as potting soil for plants or add this mix to other potting soil mixes to increase the airiness, quality and moisture balance. Adding our special Cellmax Coco fertilizers will improve the end results.
Instructions
Fill the pot or container for 2/3 with Coco Perlite Mix. Place the plant in the pot and fill the pot to the edge. Press the substrate gently and then give it enough water.
Reuse
Coconut and perlite are perfectly suitable for reuse. When reusing the Coco Perlite Mix, you can use Cellmax Allzymes to remove dead organic material from the coconut potting soil.
Cultivation substrate based on coconut fibers and perlite
Composition
Cocopeat 70%
Coarse perlite 30%
Dry matter >35%
Organic matter >90%
pH 5,5-6,5
EC 0,9 mS/cm
Net weight 14 Kg
Transparancy
We are therefore transparent about how we make our products. You can read the complete composition of all products on the packaging. This way you know exactly what you are growing and what you are eating.