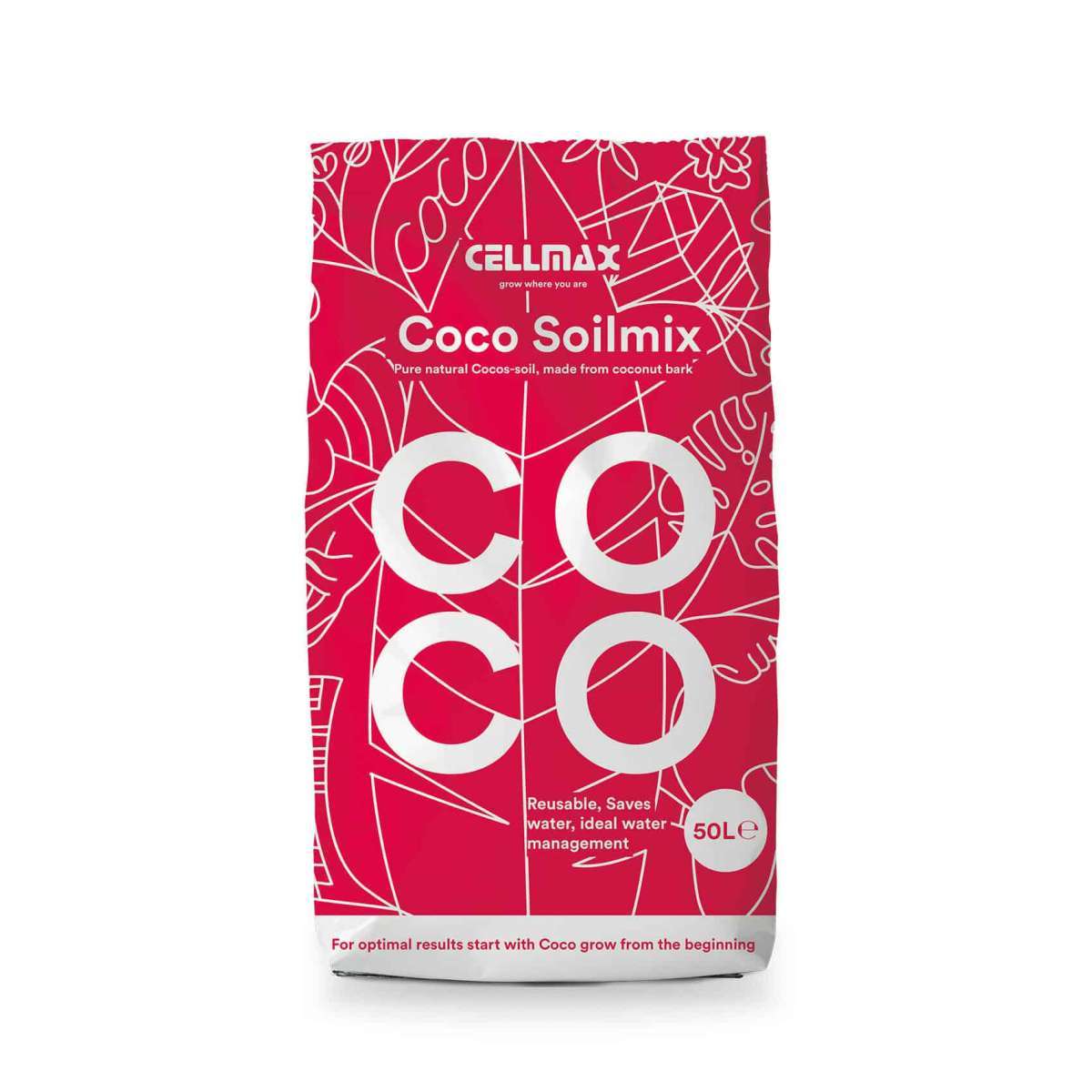 Coco Soilmix
Coco holds water. This makes coco sustainable for growing with little water. 100% peat-free and therefore good for the environment.
From: € 18,50
Variaties:
✓

Free Shipping

✓

All prices include taxes

✓

Track & trace

✓

Packed clean and dry in boxes

✓

Delivered within one to three business days

✓

Environmentally conscious and sustainable transport

✓

Exchange or return within 30 days
Cellmax Coco Soil Mix is ​​a high-quality coco potting soil for growing all types of plants. Coconut potting soil is used in professional horticulture as a cultivation substrate because of its excellent properties and results. Cellmax Coco Soil Mix is ​​a high-quality buffered coconut substrate. The capillary action is optimal for cultivation and is suitable for European organic/organic agriculture and horticulture and bears the RHP quality mark for horticulture.
Usage
Coco Soil Mix is ​​intended for cultivation in pots. Fill the jar with Coco Soil Mix. For maximum aeration, you can first fill the pot with clay granules. Let the young crop take root with Cellmax Rootbooster. Because this potting soil is not fertilized, we recommend that you fertilize your plants with Coco Grow X+Y from the start.
Tijdens de bloeifase blijven voeden met Cellmax Coco Bloom meststof. Vanaf ongeveer de 4e week van de bloei kan je gebruik maken van de supplementen & boosters zoals PK-Booster of Flowersimulator voor een hoge kwaliteit eindresultaat en hogere opbrengsten.
Reusable
Cellmax Coco Soil Mix is ​​reusable. Rinse the substrate with Cellmax Allzymes after harvest to break down dead root material and convert it into useful sugars for new plants.
Properties
100% Cocopeat
pH (H2O) 6,2
EC 0,9 mS/cm
Water retention capacity 7.4ml/gr
50L EN12580
Transparancy
We are therefore transparent about how we make our products. You can read the complete composition of all products on the packaging. This way you know exactly what you are growing and what you are eating.