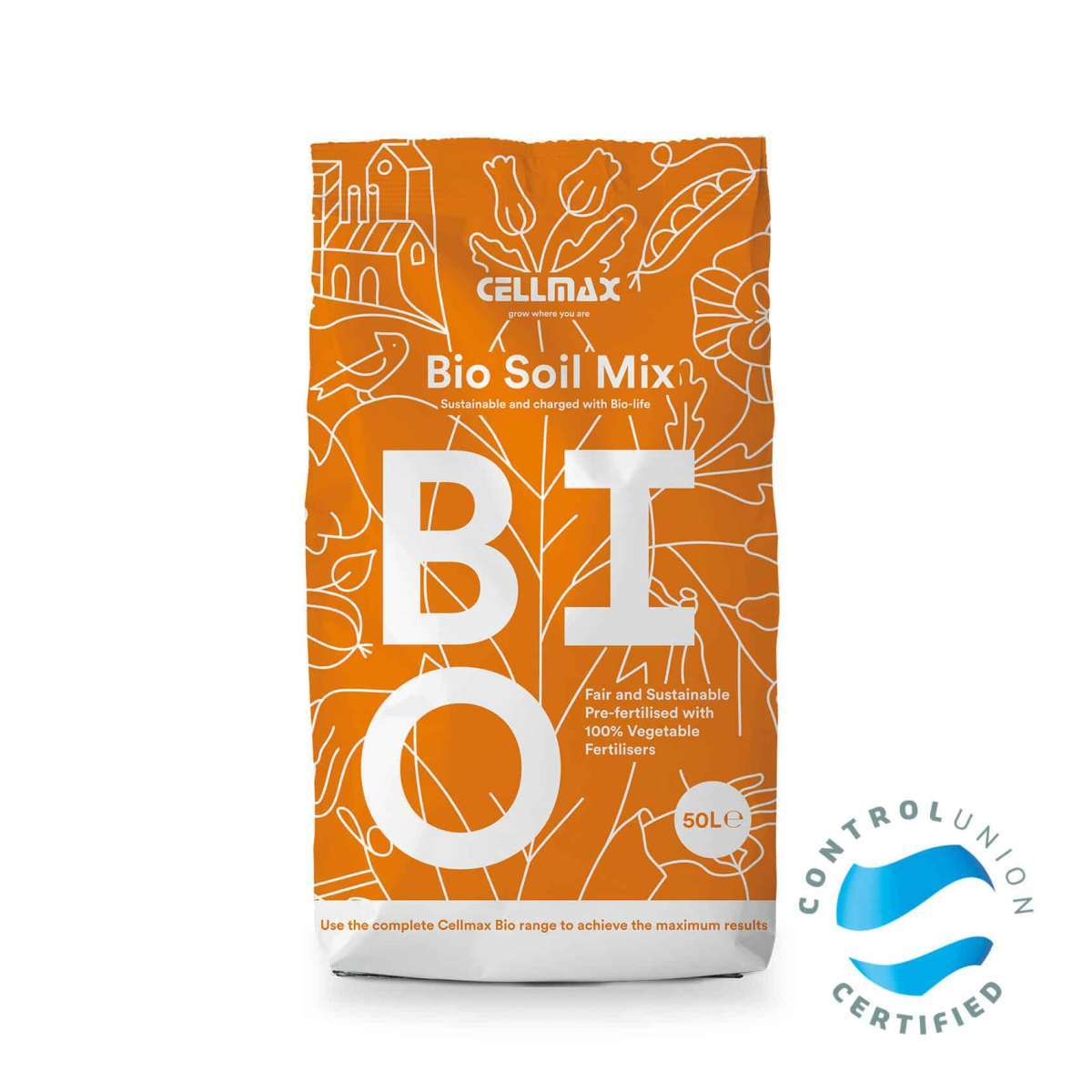 Bio Soil Mix
Certified organic potting soil of the best quality. 100% vegetable. For a good start to all your organic projects.
From: € 18,50
Variaties:
✓

Free Shipping

✓

All prices include taxes

✓

Track & trace

✓

Packed clean and dry in boxes

✓

Delivered within one to three business days

✓

Environmentally conscious and sustainable transport

✓

Exchange or return within 30 days
The organic potting soil that is truly organic. For professional and home use.
Cellmax Bio potting soil is one of the most sustainable potting soils ever made. It is largely made from renewable raw materials and contains minimal peat content. Cellmax guarantees that all products in the Bio line are free of heavy metals and other harmful ingredients for people and nature. The products contain only vegetable components and therefore no animal proteins or other animal by-products.
Cellmax organic potting soil is certified by Control Union, a worldwide organization that performs tests and inspections in the field of organic agriculture and horticulture. This certification means that this land may be used for organic agriculture and horticulture on the basis of EC Regulations 889/2008 and 834/2007. Naturally, the Bio potting soil also has the Quality Mark for Good Soil and the RHP Quality Mark for Horticulture and Consumer. Cellmax Bio Potting Soil has been extensively researched by laboratories and testers. It is suitable for fast growing crops, herbs, vegetables and fruits. It is also well suited for flowers and tropical plants. The unique and rich composition of Cellmax organic potting soil enables high crop yields in a responsible, sustainable way.
Composition
Schorscompost & groencompost uit gecontroleerde productie
Wood fibers from certified production
Untreated coconut
Fermented peat plants
100% vegetable fertilizers (sufficient for 4-6 weeks)
Fulvin and Humin. These are natural by-products from drinking water extraction
Organic soil conditioner made from wine production by-products
Biostimulants
Natural rock flour and minerals
Seaweed
Chalk
All ingredients go through a special process after mixing to allow the soil life to fully mature. As a result, bacteria and fungi that are necessary for the plant come to life. The result is a potting soil that fully supports the growth and development of your plants.
Usage
Fill your pot, container or tray for 2/3 with potting soil. Place the plant in the pot and fill the pot up to the rim with potting soil. Gently press the potting soil and water as needed. You can adjust the watering to the needs of the plant, the size of the pot, the growing conditions and the growth phase of the plant. The potting soil should not be constantly wet or dry out completely.
For the best results, Cellmax BIO potting soil can be combined with the following products:
Cellmax Bio Rootbooster for many and strong roots
Cellmax Bio Mycorrhiza for nutrition near the roots
Cellmax Bio 8-2-2 for better growth and a rich soil life
Cellmax Bio Organic Grow for the development of a strong plant
Cellmax Bio Organic Bloom for high yields and larger fruits
Transparancy
We are therefore transparent about how we make our products. You can read the complete composition of all products on the packaging. This way you know exactly what you are growing and what you are eating.