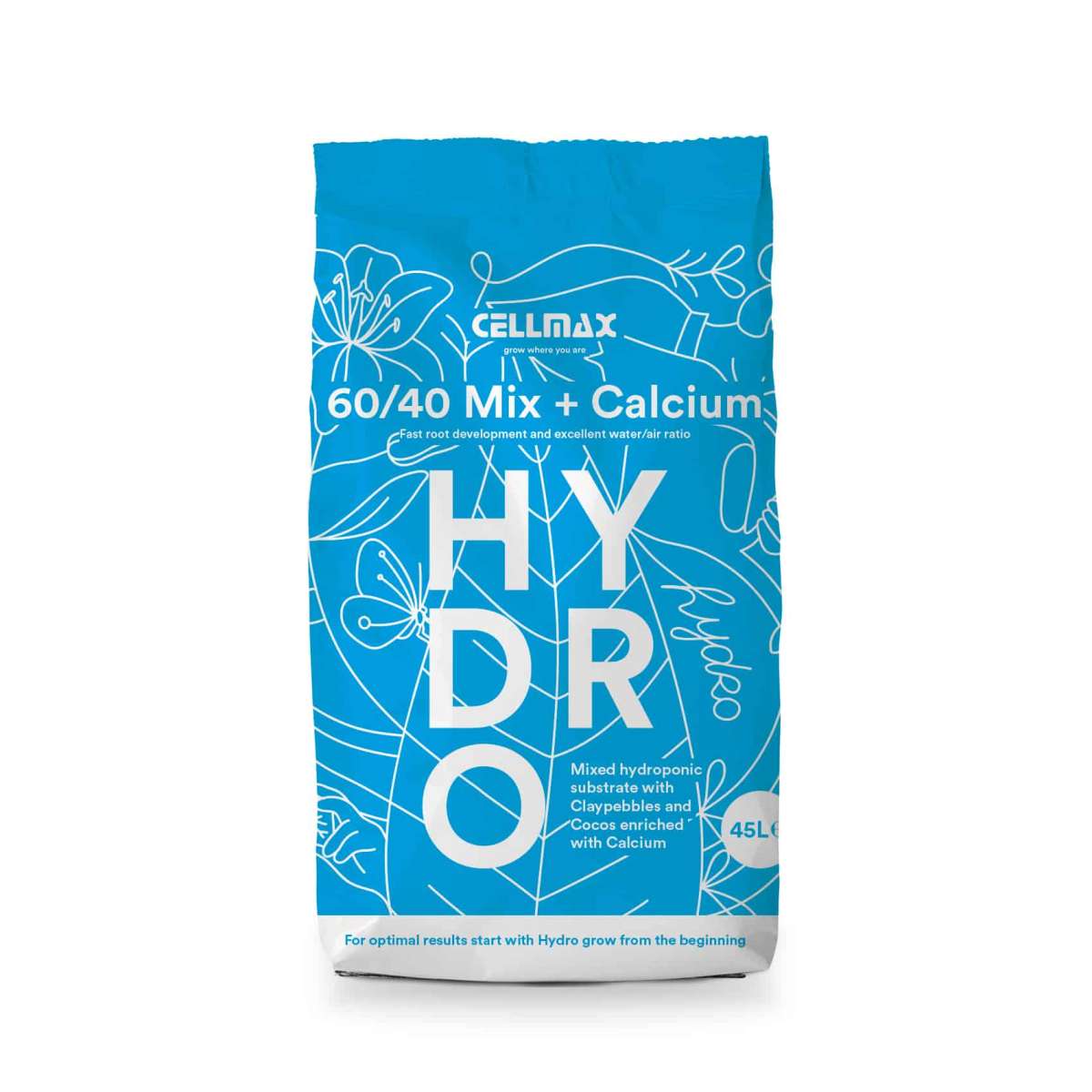 Hydro 60/40+ Mix 50L
Achieve the highest yield with this substrate for hydroponics. For an excellent root system and the best growing and flowering conditions.

Also available on a pallet with 30 or 60 bags of 50 liters.
From: € 26,00
Variaties:
✓

Free Shipping

✓

All prices include taxes

✓

Track & trace

✓

Packed clean and dry in boxes

✓

Delivered within one to three business days

✓

Environmentally conscious and sustainable transport

✓

Exchange or return within 30 days
Cellmax 60/40 + Mix. Professional substrate for hydroponics.
No potting soil is used in hydroponics. The plants are fed by water, to which the necessary nutrients have been added.
Cellmax has developed a simple solution for growing in hydroponics with coconut fibers and clay granules. The coconut fibers provide a buffering capacity, while the clay granules give the substrate the necessary airiness. The mix can be used in ebb and flow systems, recirculation systems and pots or trays. This 60/40 mix is ideal for the root system and provides excellent growing and flowering conditions for plants.
The 60/40 mix is ideal for growing fast growing plants. It is ideally suited for the propagation of young plants and cuttings. Use Cellmax Hydro fertilizers in combination with Cellmax Rootbooster and Allzymes for the best growing and flowering conditions and an excellent root system.
Instructions
As with all hydroponics systems, 60/40 mix only retains water for a short time. Therefore, water, fertilizers and additives should be added regularly. Saturate the substrate completely the first time. To prevent the accumulation of salts and waste, it is advisable to rinse the substrate regularly. You can use Cellmax Allzymes for rinsing. You can also continuously add Cellmax Allzymes to your nutrient solution. Cellmax recommends a pH of 5.4-6.5 and an EC of 1.0-2.5.
Composition
60% Expanded claypebles
40% Cocopeat
Ph H2O 5.0-6.5
EC 0,5 mS/cm
NPK 14-16-18+CaO
Water retention capacity: 600 ml/l
Transparancy
We are therefore transparent about how we make our products. You can read the complete composition of all products on the packaging. This way you know exactly what you are growing and what you are eating.