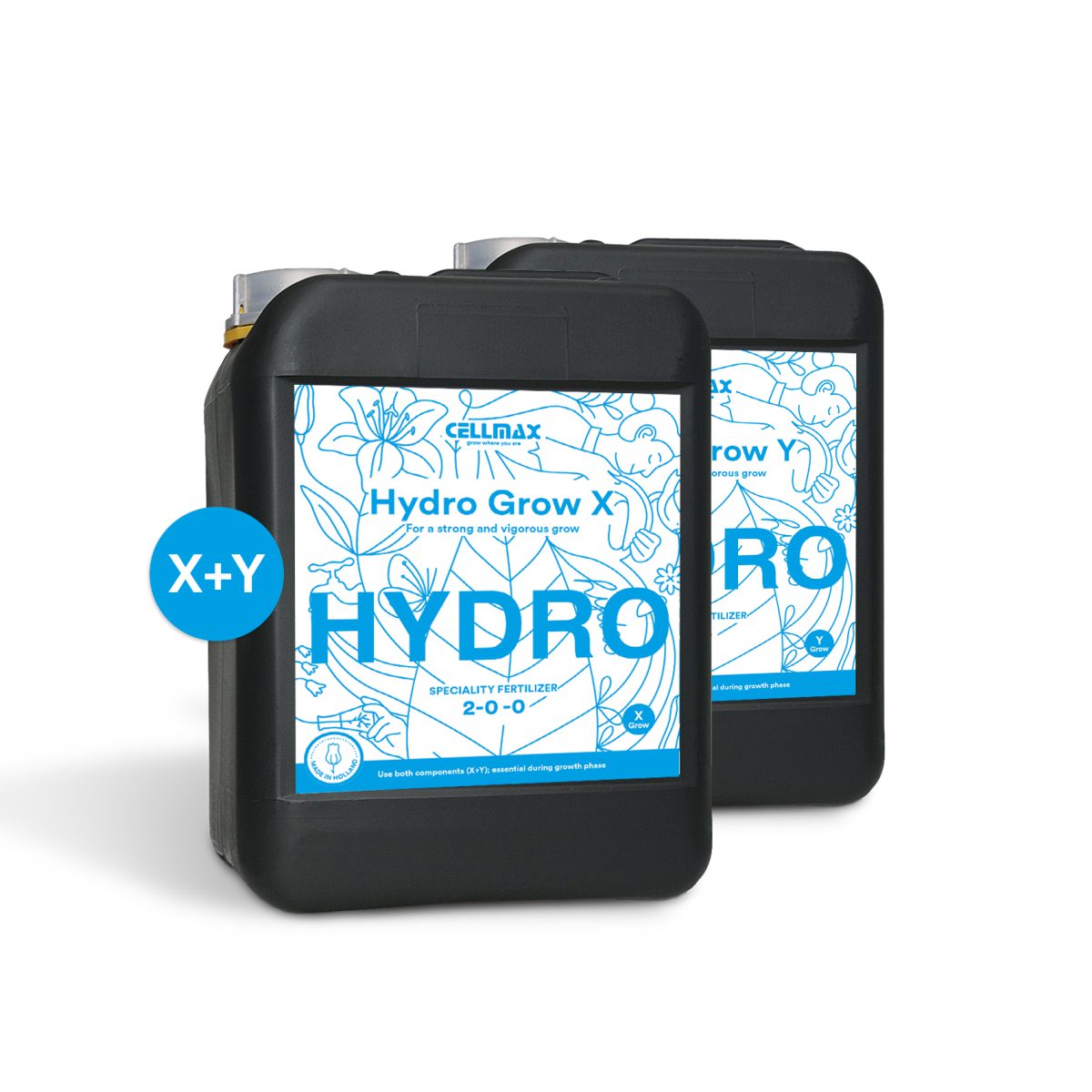 Hydro Grow X+Y
Tweecomponentenvoeding voor de groeifase op hydrocultuur. Alles voor een gezonde en sterke plant. In een voordelige 5 liter verpakking

This fertilizer consists of two components - X and Y - which are supplied in two bottles, which are mixed just before use. The price shown is for a set of 2 bottles.
From: € 49,00
✓

Free Shipping

✓

All prices include taxes

✓

Track & trace

✓

Packed clean and dry in boxes

✓

Delivered within one to three business days

✓

Environmentally conscious and sustainable transport

✓

Exchange or return within 30 days
Cellmax Hydro Grow is a two-component fertilizer for the growth phase of your plants, especially for use on hydroponics. With Hydro Grow you give plants everything they need to grow healthy and strong. Nitrogen stimulates growth and ensures that the leaves get a beautiful green color.
Tap water contains many important elements such as calcium, magnesium, sulphate, phosphate and bicarbonate. Cellmax Hydro Grow is a specially developed fertilizer that uses these substances from the tap water, adjusts the EC of the water and contains all trace elements for growing plants in Hydroponics. Cellmax Hydro Grow will always give your plant the optimum nutritional content. Excess salt build-up (harmful to plants and the environment) is also prevented. Suitable for all common hydroponic systems.
X- en Y-components
Growing with a hydroponic system involves more than usual exposure to water, light and air. These factors influence the pH and Ec values of the water – and therefore also the nutrients dissolved in the water. Cellmax Hydro fertilizers take this into account by separating the products into an X and Y component. Only when you mix both components together do they become active. This way you get an optimal result.
Instructions
Shake well before use. Prepare by diluting equal parts of the X and Y components with tap water in a ratio of 1:250. This is 4ml per litre. For best results, first dissolve one component in water and then the other. Do not mix components X and Y directly. When the components are mixed together in one go, this will lead to undissolved compounds. After preparation, use the mixture as soon as possible (within 24 hours).
We recommend an EC value of 2.0-2.5 (cf20-25) and a pH value between 5.5 and 6.2. Stir well before taking the measurements. If necessary, correct the pH value with Cellmax pH-Grow or Cellmax pH+.
Warnings
Highly concentrated. Never mix the X and Y components undiluted, as this produces insoluble mixtures.
The concentrated product contains salts and acids that can irritate the skin, eyes, lips and throat.
Store in a dark place at room temperature.
NPK: 4-2-4. Contains chelates.
Transparancy
We are therefore transparent about how we make our products. You can read the complete composition of all products on the packaging. This way you know exactly what you are growing and what you are eating.