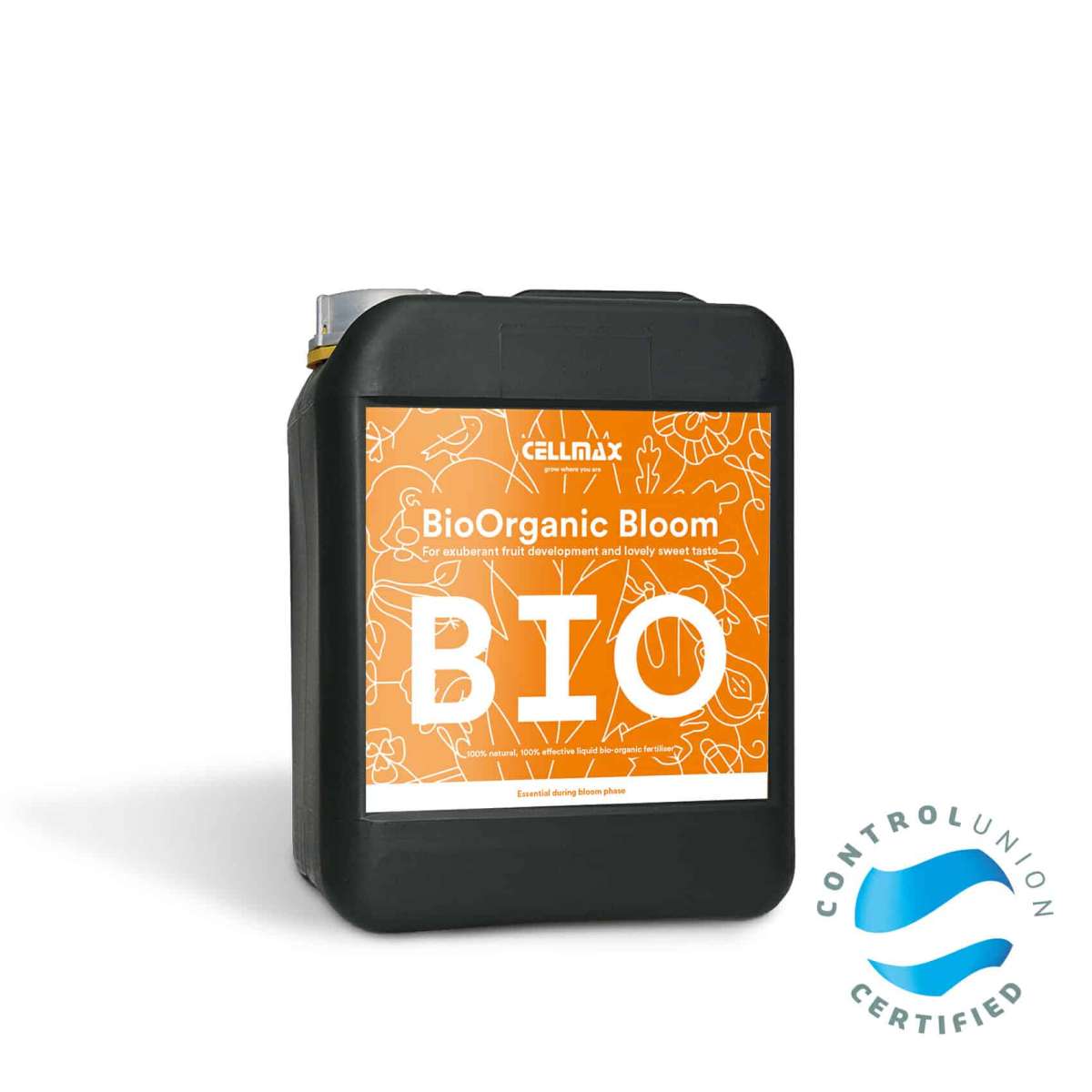 Bio-Organic Bloom
Certified organic fertilizers for exuberant flowering and high yields.
From: € 39,50
✓

Free Shipping

✓

All prices include taxes

✓

Track & trace

✓

Packed clean and dry in boxes

✓

Delivered within one to three business days

✓

Environmentally conscious and sustainable transport

✓

Exchange or return within 30 days
Cellmax Bio-Organic Bloom is an easy-to-use liquid organic fertilizer especially for flowering plants. For optimal fruit development and a perfect taste.
This bio-organic fertilizer is a 100% vegetable nutrient for growing plants organically. Bio-Organic Bloom has a sophisticated NPK ratio of 2-2-5, especially for the flowering and fruit-bearing phase of your plants. It shows excellent results in organic cultivation for indoor and outdoor use. This fertilizer is made from 100% vegetable raw materials and contains proteins, vitamins, trace elements, fermentations and natural acids. pH correction not necessary.
Tip: Take the oportunity to use this product together with our Cellmax BIO-Organic Grow formula to achieve an optimum results.
Usage
Shake well before use. Dilute 4ml in 1 liter of water. Use the diluted solution within 48 hours. Apply the solution to plants in the growth phase during watering. Adjust the amount of water to the plant and pot size. The soil should not get too wet.
Use Bio-Organic Bloom when the plants start to flower or form buds. Until then, you can use Cellmax Bio-Organic Grow for vigorous plants that can bear a lot of fruit. Cellmax Bio-Organic products work best by pouring.
Prepare the solution no more than 48 hours in advance. Nutrient solution does not need pH adjustment.
Storage
Keep the bottle closed in a cool, dark and frost-free place. Keep out of reach of children.
Certification
Certified by Control Union. Suitable for organic agriculture and horticulture according to EC Regulations 889/2008 and 834/2007.
Transparancy
We are therefore transparent about how we make our products. You can read the complete composition of all products on the packaging. This way you know exactly what you are growing and what you are eating.
| | |
| --- | --- |
| | EU-2, EU-1, ES, FR, GB, NL |